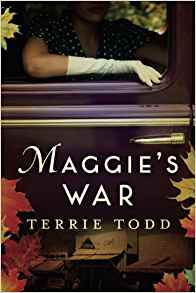 Maggie's War
1942 – Canada
In 1942, telegrams always bring life-altering and tragic news in a war-hardened world—and the one Maggie Marshall receives is no different. But running a restaurant with the help of only pregnant, unwed girls has taught her to be tough. Maggie's no weeping widow, but Charlotte Penfield thinks she's the most unfeeling woman on earth. Seventeen, exiled by her wealthy parents, and working in the restaurant, fanciful Charlotte runs away with romantic notions of a reunion with her baby's father at his military camp.
It has been years since Maggie darkened the church door of her pastor and childhood friend, Reverend Reuben Fennel, and his heart breaks for the hardened woman Maggie's become. When she seeks his help to find Charlotte, he's happy to aid her in the chase—though it may cost him his job and reputation.
Over the miles from Winnipeg to Fort William, Reuben and Maggie's journey rekindles their affection—and their dreams of what they still could be. But Maggie stubbornly clings to her independent ways until she's dealt another devastating loss, one that forces her to recognize that heroes can be discovered in unlikely places and love may be far sweeter than she ever dared imagine.
Save