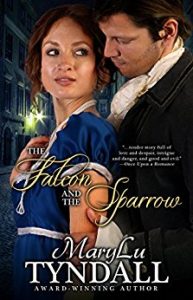 The Falcon and the Sparrow
1803 – England
London of 1803 is as wild as Rome before the fall of the Empire as the rick seek to feed their insatiable hunger for pleasure while ignoring Napoleon's resurgence.
Into a dark London townhouse walks a timid woman set upon saving her brother's life, even if it requires her to commit treason upon the country of her birth.
Admiral Chase Randal is intrigued by the new governess in his home and cannot deny that his grieving heart is beginning to awaken as he watches Dominique's gentle ways with his son.
Yet Dominique faces an impossible choice. Steal Admiralty documents for Napoleon and betray the man she loves or watch her only brother die.
When the Admiral discovers her ruse and follows her back to France, will he be able to forgive her in time to save her and her brother or will they all perish beneath the blade of Napoleon's henchmen