Goodreads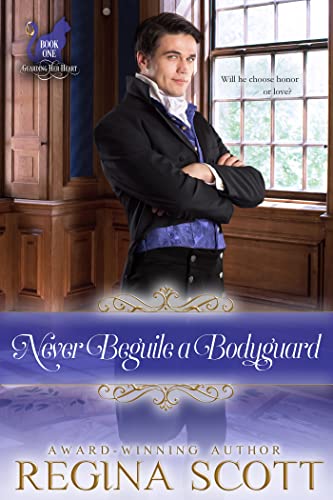 ~ Apple ~ Author's Store ~ B&N ~ Kobo ~ Amazon
1825 – England
Ordered to guard, forbidden to love
When elite soldier Finn Huber was released from his duties to his king and crown prince to start a new life in Regency England, he never dreamed his first position would be bodyguard to a governess whose sweet nature calls to him. He fell for a lady he was guarding years ago, with devastating consequences. He learned the hard way that bodyguards must be vigilant, valiant, and in control, always. Loving who they guard is strictly forbidden.
Governess Abigail Winchester beguiles her charges with warm smiles and gentle words, but her composure is hard won. Someone knows about her connection to a family scandal and is bent on destroying her. How kind of her benefactress, Lady Belfort, to hire Finn to keep her safe as she hides at the lady's country estate. He is everything a lady might admire, but she cannot give in to her growing feelings for him. Finn's honor and her past can never be reconciled.
But Lady Belfort and her cat, Fortune, are renowned for making matches—in employment and in romance. With their help, Finn and Abigail must uncover who is threatening her and stop the villain before it's too late. In the end, will honor or love prevail?