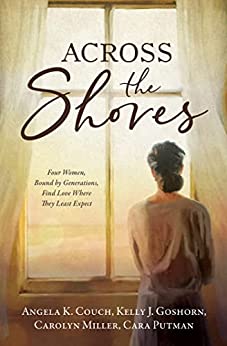 Goodreads ~ B&N ~ Google Play ~ Kobo ~ Amazon
Sometimes love finds you where you are, and other times it meets you across distant shores as four women discover in these four historical stories linked by a shared gold pendant.
More Than Gold

(New South Wales, 1851) by Carolyn Miller
Josephine Wilkins is headstrong and heartbroken—why else would she have left all she knew to follow her brother's dreams of finding gold across the seas? Daniel Jardine is simply seeking adventure, in a land far away from family responsibilities and duty, two burdens he's happy to disregard in his quest to be known for himself. When these two finally meet sparks are set to fly, as they discover that digging deeper than first impressions reveals the true value of one's character, and real love and faith is worth far more than gold. 
The Veil

(Baltimore, 1877) by Kelly Goshorn
After Caroline Wilkins is burned during a suitor's attack, she retreats behind a lace veil and vows only to remove it for a man who will profess his love without seeing what lies beneath. Franz Kohler is a mountain of a man with a gentle heart and a hidden dream of carving intricate Bavarian clocks. When a mutual attraction grows between them, neither is willing to reveal their secrets, jeopardizing any hope of a future together unless two hearts can find the courage to trust again. 
Running from Love

(Canada, 1905) by Angela K. Couch
Anna Kohler has left her home, and even her country, for the sake of her wayward brother. But when the local Mounted Police takes an interest in them, her hopes for the future collide. Constable Benjamin Cole has a duty to perform, no matter what his heart desires. 
Lauren's Song

(

Outer Banks, NC, 1942) by Cara Putman
Lauren Randolph's world has fractured with the death of her father five years earlier in a boating accident. John Weary defied his father's wishes when he followed his grandfather's footsteps and joined the Coast Guard. When Lauren's brother goes missing at sea, John is determined to do what he can for Lauren, while continuing his work scouring the shoreline for U-Boats. Lauren focuses on her duties with the Civil Defense as they seek to uncover the real reason her brother disappeared. To do so, they have to unravel the truth about the woman who claims to carry John's child and whether fishermen are really seeing U-boats or something else entirely.