I'm excited to host Amanda Cabot for a second end of the month giveaway! And Amanda's been gracious to offer two paperbacks to two lucky readers, along with the ebook of anything book she mentions in the interview. Welcome, Amanda.
Texas , 1880s , 1880-1900 (US Turn of Century) , Cowboy/Ranching, Medical Professional, Teacher , Cabot-Amanda

Catherine Whitfield is sure that she will never again be able to trust anyone in the medical profession after the town doctor's excessive bleeding treatments killed her mother. Despite her loneliness and her broken heart, she carries bravely on as Cimarron Creek's dutiful schoolteacher, resigned to a life without love or family, a life where dreams rarely come true.

Austin Goddard is a newcomer to Cimarron Creek. Posing as a rancher, he fled to Texas to protect his daughter from a dangerous criminal. He's managed to keep his past as a surgeon a secret. But when Catherine Whitfield captures his heart, he wonders how long he will be able to keep up the charade.

With a deft hand, Amanda Cabot teases out the strands of love, deception, and redemption in this charming tale of dreams deferred and hopes becoming reality.
Other Books in this Series: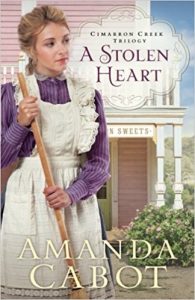 *******************************************************************************************************
Questions about Amanda's Story
What inspired your story?
I've always been intrigued by the dramatic changes in medicine during the nineteenth century as doctors shunned the previously popular Heroic Medicine (techniques like bleeding and purging), and moved toward germ theory and a recognition of the importance of cleanliness.  There was such a contrast between the two schools of medicine that I thought it would be fun to pair a hero who exemplified all that was good about modern (well, as modern as it could be in 1881) medicine with a heroine who had good reason to distrust all doctors based on her experiences with the horrors of Heroic Medicine.
What research book or website used to write this book was your favorite to peruse?
T.R. Fehrenbach's Lone Star: A History of Texas and the Texans is my go-to book for basic historical research on Texas.  Like the state itself, it's big – more than 750 pages long – and filled with fascinating facts.  
*******************************************************************************************************
Questions about Amanda's Reading
Which book got you hooked on reading Christian Historicals?

Stephanie Grace Whitson's Secrets on the Wind was so beautifully written and had such an intriguing plot line that it made me not only want to read everything she'd written but also try my hand at writing a Christian Historical novel of my own. It also inspired me to take a trip to Fort Robinson, but that's a story for another day.

If your job was to sell one author's historical fiction (besides your own) which author's wares would you want to peddle? And which is your favorite by that author?

Without a doubt, that would be Ann Gabhart. She's such a talented, versatile author, giving readers wonderful books set in different time periods, not to mention that she writes mysteries as well as historical fiction. See what I mean about versatility? It's hard to choose just one of Ann's books, so let me list my two favorites: her current release, These Healing Hills, and Angel Sister.
Amanda is giving away a copy paperback (usa only) and I'm giving away winner's choice of ebook of any of the books mentioned above. Enter the Rafflecopter below!
**If you don't want to enter Rafflecopter, tell me in a comment below: "I'm not entering the rafflecopter, but please throw me in the hat" so I can manually put you in there for a chance.**