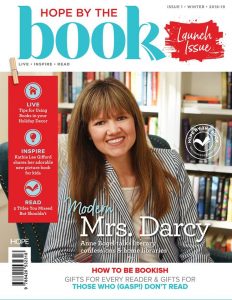 Have you heard of Hope by the Book? It's a new magazine for readers of Christian Fiction and it looks so good! The first issue comes out soon and you can use the code BOOKISH to save $4 on a subscription. This month's book just earned a bookmarked review from Hope by the Book, check it out!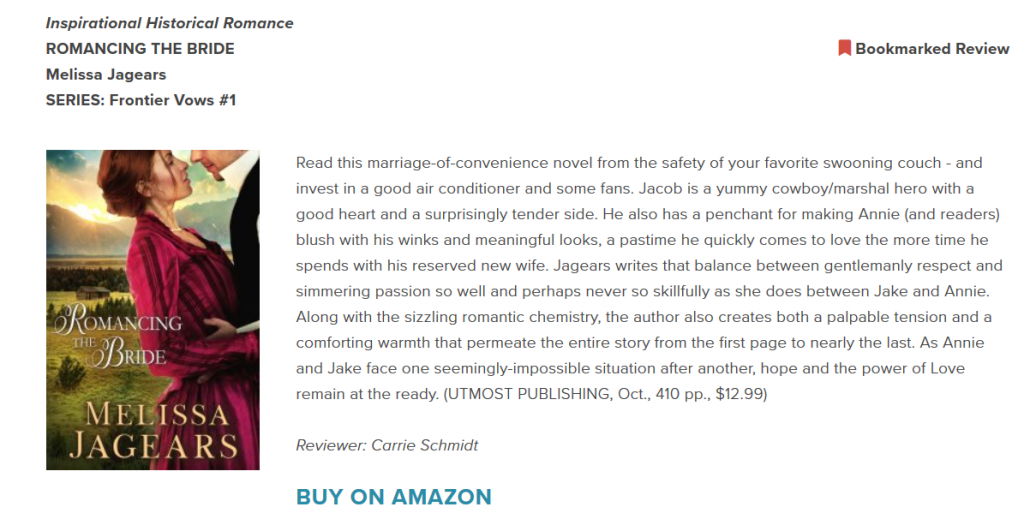 Wyoming , 1880s , 1880-1900 (US Turn of Century) , Cowboy/Ranching, Law Enforcement , Older Hero/Heroine, Widowed , Marriage of Convenience/Arranged Marriage , Jagears-Melissa 

Marrying a stranger to save a ranch is one thing; losing the land on their wedding day is another.

Desperate to keep the ranch where three of her children and a husband lie buried, Annie Gephart must marry or sell. Which of the few bachelors in town would consider a surprise proposal to wed a plain widow with a rebellious daughter, a spirited boy, and unpaid taxes—without laughing in her face?

Jacob Hendrix has never fully let go of his ranching dreams despite ending up as a small Wyoming town's marshal. The job wouldn't be so bad, except he's more errand boy than lawman. When Annie proposes marriage without a single coquettish bat of an eyelash, can he commit himself to a woman he hardly knows for a choice piece of property he'd be an idiot to pass up?

But taxes aren't all that threaten Annie and Jacob's plans. Cattle rustlers, crumbling friendships, and wayward children make this marriage of convenience anything but. When they lose what they've sacrificed everything to save, will the love of a stranger be enough?
*******************************************************************************************************
Questions about Melissa's Story
If you could be one of your characters, who would you choose to be and why?
I'd choose Jacob. The man has integrity and patience. Patience beyond what I possess.
What research did you have to look up to make your character's professional decisions authentic?
I did a ton of research, of course, but I hit upon a JACKPOT article that basically shaped Jacob's job and several plot threads. The article was titled: "City management in the old west: what was it like to manage a small city in Wyoming in the mid-1880s, and how did the city administration evolve in response to a variety of issues confronting the Laramie city council?"
If you're not a writer, you may not know how exciting it is to find an article that answers EVERY question you could possibly have on how to set something up. Usually you have to go digging around all over the place to find answers, but I found so many answers in this article and even things I could add that I'd never have thought to add. Some of the crazy jobs I gave to Jacob you may think I just made up to complicate his life, but I didn't. Read this sentence from the article:
"However, in these early days, the chief of police or town marshal performed many duties not normally associated with law enforcement, including removing corpses from an old cemetery, notifying citizens that they needed to construct sidewalks, capturing stray livestock, filling potholes on city streets, and raking the city's streets and alleys."
If you read the book, you can see Jacob doing all of that. 🙂
Were there any historical facts that you discovered in your research that made you change something in your story?
Yes, eight years ago, when I first started writing this, I set it in 1887 (for some reason I don't recall) and as I worked at writing the book, I kept reading historical books on the area and ran across a single sentence that blew away my whole entire premise! In the winter of 1886/1887 there was a huge blizzard that basically devastated the area. Land in the area would have been pretty worthless and Jacob could buy basically any land he wanted so Annie's land wouldn't have been much of an enticement. So I had to change some things to set it earlier in the 1880s.
So, given the blizzard coming, I knew in a few years, Jacob and Annie's place is going to fall on some major hard times historically, which made me sort of sad for their happily ever after, hence why I decided to make Jacob think about breeding fine horses instead of going all gung-ho about cattle ranching so that they'll be ahead of the game come the blizzard they don't know will hit them. I'm looking out for my characters. 🙂
*******************************************************************************************************
Questions about Melissa's Reading
What Christian Historical Novel did you reread last, and why did you reread it?

I reread the two Abby Gaines books: The Earl's Mistaken Bride and The Governess and Mr. Granville. I remember reading those years ago and saying that the author was now an auto-buy, so I wanted to brush up on why I said that because I forgot. 🙂 Probably because it was well written and it was refreshing that the heroes both primary and secondary were rather highly flawed and yet I still rooted for them.

What Christian Historical Novel taught you something about the craft of writing because it was so well done? And tell us a bit about what it taught you.

Maid to Match by Deanne Gist. I remember reading that one and being so impressed at the end on how flawlessly the set up was for me to flip pages and there felt as if there was no lag anywhere. So I outlined the book and discovered some tricks on how to keep the push/pull between the hero and heroine going strong if set up similarly.

What was the last Christian Historical Novel that made you cry?

Mark of the King by Jocelyn Green. I read that on a long drive during vacation and had to sniff back the tears as my husband in the driver seat likely thought I was a loony crying beside him in silence.
I'm giving away a choice of paperback or ebook (International Entrants welcome if you are on this list of countries.). Enter the Rafflecopter below!
**If you don't want to enter Rafflecopter, tell me in a comment below: "I'm not entering the rafflecopter, but please throw me in the hat" so I can manually put you in there for a chance.**