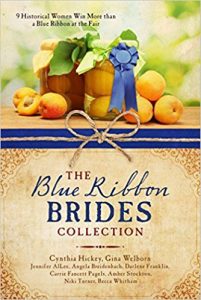 The Blue Ribbon Brides Collection
Meet nine men and women whose competitive goals take them to state and county fairs between 1889 and 1930. From baking pie to polishing pigs, from sculpting butter to stitching quilts, everyone has something to prove to themselves and their communities. But in going for the blue ribbon, will nine women miss the greatest prize of all—the devoted heart of a godly man?
*Requilted With Love by Carrie Fancett Pagels is available in e-book format here.