Flora's Wish (The Secret Lives of Will Tucker)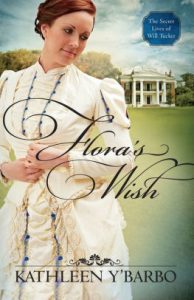 1887 – Arkansas
May 1887–Flora Brimm is determined the fifth time is the charm. Back home she has a reputation as "Fatal Flora," a woman whose previous four fiancés died in untimely accidents. Flora is desperate to marry, because producing an heir is the only way she can keep her family's estate. She's confident this visit to Eureka Springs with her grandmother will help her land a husband.
Pinkerton detective Lucas McMinn is hot on the trail of Will Tucker, the thief who broke his sister's heart. When he discovers the slippery fellow with Flora, he thinks they are in on the devious plot together. Will Flora be able to convince Lucas of her innocence? Will Lucas catch the elusive Mr. Tucker?
And, more importantly, will Lucas survive if he pursues Flora's heart?
An engaging story of how God can move circumstances to bring love, joy, and lasting fulfillment to the most hopeless heart.