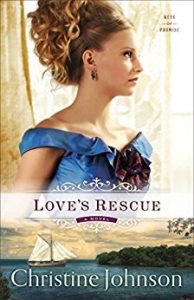 Love's Rescue
1850 – Florida
Can a girl enamored with the adventurous seas ever be content with the tame life of a Southern belle?

When her mother dies, Elizabeth Benjamin heads home to Key West, determined to transform herself into the perfect Southern belle her parents always wished her to be. But nothing goes according to plan. Her brother resents her, the servants do not obey her, and Rourke O'Malley, the dashing man she vowed to forget, refuses to relinquish his hold on her heart. Worst of all, it becomes painfully obvious that her father is not the man he appears to be.
As family secrets come to light, Elizabeth is faced with a difficult choice: to perform her duty and abandon her dreams, or to leave her life of privilege behind to chase the man her father sees as little better than a pirate.