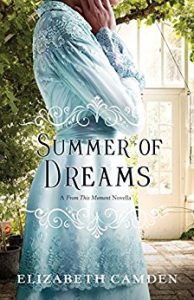 Summer of Dreams
1886 – New York
The daughter of a powerful army general, Evelyn White vows she will never marry a man in uniform. Which is why Clyde Baxter, a West Point cadet on the verge of graduation, presents a problem. Their attraction is instantaneous, but it threatens Evelyn's lifelong dream of going to college.
Clyde's brilliance in the new field of electrical power has him poised for a promising career in the Army's Corps of Engineers. The one thing he never anticipated was Evelyn White, a woman whose soaring ambition matches his own.
As they fall in love over the course of one magical summer, they believe dreams are enough to weather any challenge. But when they are tested by forces neither saw coming, will the fragile bonds forged during those dream-filled summer days be strong enough to survive the storm?