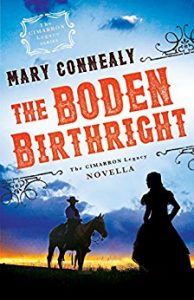 The Boden Birthright
New Mexico
After the death of his wife, prosperous businessman Chance Boden heads west along the Santa Fe Trail with his son to escape the powerful, controlling hands of his in-laws. He has plans to establish his own ranch, but instead he finds work with Frank Chastain, owner of a vast amount of land.
Chance doesn't want to work for anyone, but Frank's beautiful daughter gives him reason to delay buying his own holdings. With winter coming, no home in which to live, and Veronica's offer to care for young Cole while Chance learns the ways of successful ranching in the desert, Chance has little choice but to accept the Chastains' offer to stay on.
When Frank is attacked, his dying wish is that Chance marry his daughter, but after dealing with his in-laws, Chance isn't going to let anyone come between him and his son. Then Frank's precarious hold on the land he received as part of an old Spanish Land Grant forces Frank to make a desperate choice to save Veronica's inheritance–and also gives the men who attacked Frank reason to come after him.