The Sweetest Thing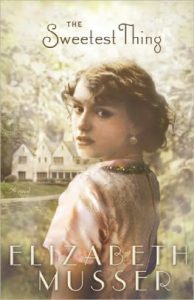 1933 – Georgia
The Singleton family's fortunes seem unaffected by the Great Depression, and Perri–along with the other girls at Atlanta's elite Washington Seminary–lives a carefree life of tea dances with college boys, matinees at the cinema, and debut parties. But when tragedies strike, Perri is confronted with a world far different from the one she has always known.
At the insistence of her parents, Mary "Dobbs" Dillard, the daughter of an itinerant preacher, is sent from inner-city Chicago to live with her aunt and attend Washington Seminary, bringing confrontation and radical ideas. Her arrival intersects at the point of Perri's ultimate crisis, and the tragedy forges an unlikely friendship.
The Sweetest Thing tells the story of two remarkable young women–opposites in every way–fighting for the same goal: surviving tumultuous change.