A Heart's Danger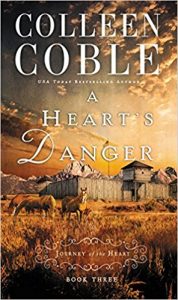 Post Civil War – Wyoming
On the brink of war with the Sioux, Sarah risks everything to expose the betrayal threatening the man she loves.
Christmas is coming, and the air at Fort Laramie has turned cold . . . but relations with the Sioux have turned colder. As tensions between soldiers and natives approach a tipping point, a trap has been set for Rand Campbell.
Rand's new fiancée wants to keep him from returning to Sarah Montgomery . . . for whom his heart clearly still yearns.
Sarah just wants to move on with her life at Fort Laramie, but doing so under the watchful eyes of both Campbell—the man whose love she craves—and Croftner—the man whose lies have cost her everything.
Will Rand fall victim to the conspiracy and go through with his wedding? Or will he declare his love for Sarah and make good on the promises that brought her into the rugged western territories?