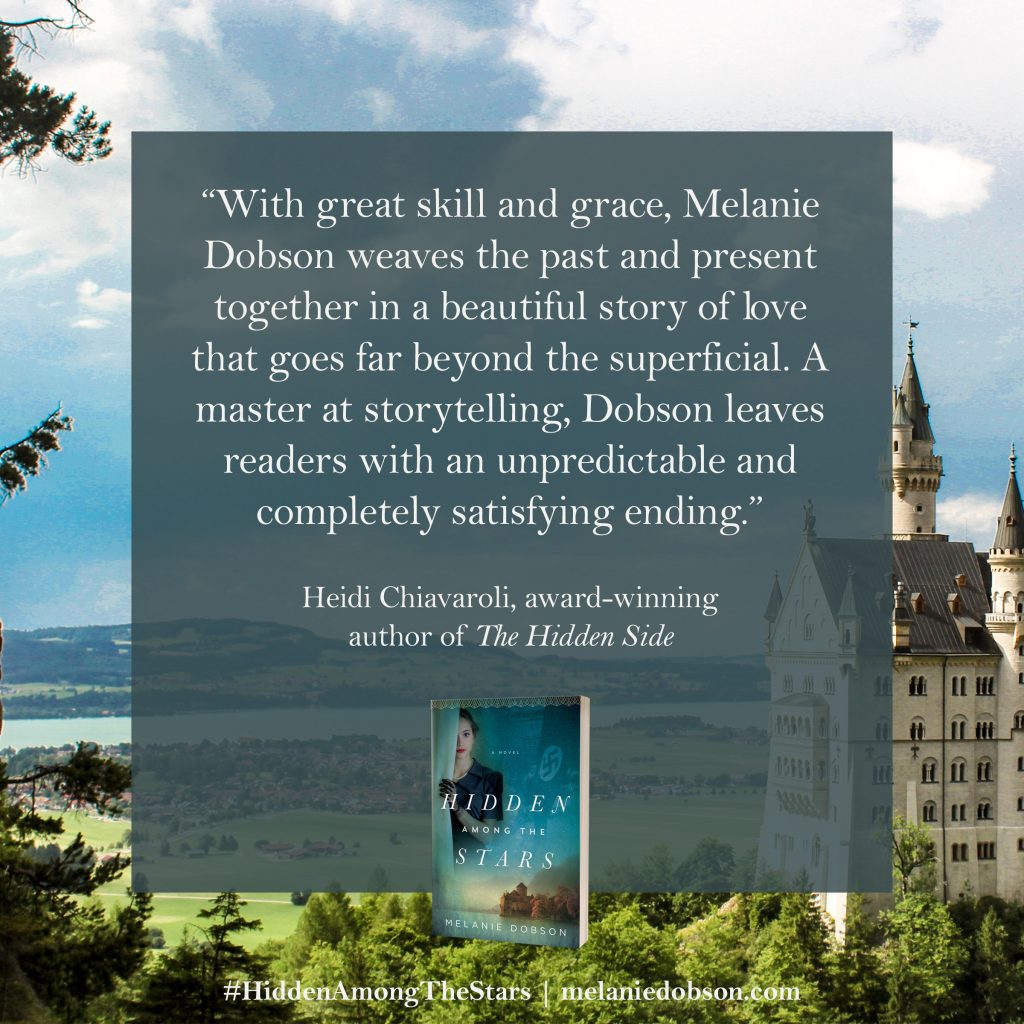 Austria , Ohio , Foreign Setting , 1940s , 1939-1945 (US WWII) , Kristallnacht, World War II , Housekeeping, Student , Past/Present Plot or Split Time Periods , Dobson-Melanie

The year is 1938, and as Hitler's troops sweep into Vienna, Austrian Max Dornbach promises to help his Jewish friends hide their most valuable possessions from the Nazis, smuggling them to his family's summer estate near the picturesque village of Hallstatt. He enlists the help of Annika Knopf, his childhood friend and the caretaker's daughter, who is eager to help the man she's loved her entire life. But when Max also brings Luzia Weiss, a young Jewish woman, to hide at the castle, it complicates Annika's feelings and puts their entire plan―even their very lives―in jeopardy. Especially when the Nazis come to scour the estate and find both Luzia and the treasure gone.

Eighty years later, Callie Randall is mostly content with her quiet life, running a bookstore with her sister and reaching out into the world through her blog. Then she finds a cryptic list in an old edition of Bambi that connects her to Annika's story . . . and maybe to the long-buried story of a dear friend. As she digs into the past, Callie must risk venturing outside the safe world she's built for a chance at answers, adventure, and maybe even new love.
*******************************************************************************************************
Questions about Melanie's Story
What inspired your story?
A castle in Austria! My husband and I backpacked across Europe to celebrate our fifth wedding anniversary, and our favorite stop was the ancient town and alpine lake called Hallstatt. Along the lakeshore was a medieval castle that captured my attention, but it took me years to uncover its story.
On this trip, we discovered that this Austrian region is often called "Devil's Dustbin" because the Nazis retreated through these Alps near the end of World War II, throwing all sorts of valuable items in the lakes. Because of the water's depth and the many hiding places in the underwater forests, caves, and shifting sands, people continue searching for World War II artifacts here today.
Which scene is your favorite, the one you never tired of working with? 
The first chapter with Max Dornbach digging in the cemetery was my favorite scene to write. Annika, the girl who helps care for the Dornbach property, is watching her friend Max as he digs in this plot behind his family's estate, and the first paragraph hints at the future for her character. Then the scene transitions into her longing to be loved by him.
I loved writing this chapter, because I wanted readers to hear Annika's heart and see Max from her point of view. Also, I wanted readers to wonder what Max is burying in the cemetery.
Were there any historical facts that you discovered in your research that made you change something in your story?
A historical fact that I uncovered completely changed the direction in the second half of the story. Unfortunately, I can't tell you what it is because this unusual fact is pivotal to my contemporary character finding resolution to the almost eighty-year-old mystery in the book. 🙂
*******************************************************************************************************
Questions about Melanie's Reading
What other Christian Historical Novels are similar to yours in setting or storyline?

Cathy Gohlke's Secrets She Kept and Kristy Cambron's The Lost Castle are both fascinating time-slip novels with stories set partially during World War II.

Which book got you hooked on reading Christian Historicals?

Catherine Marshall's Julie compelled me to read and then write inspirational historical fiction. I empathized with the main character (a young writer) and was inspired by the powerful themes of faith and love in the story.

Which was the last Christian Historical Novel you read, and what was your favorite thing about it?

I just finished reading The Solace of Water by Elizabeth Byler Younts. It's a beautifully-written story about three women, set during the 1950s in Pennsylvania's Amish country. Elizabeth is a gifted wordsmith and invites readers into her fictional world in such a way that you feel deeply for the characters and their heartache, hoping they will find healing for their pain.
Melanie is giving away a paperback copy (USA only) and I'm giving away winner's choice of ebook of any of the books mentioned above. Enter the Rafflecopter below!
**If you don't want to enter Rafflecopter, tell me in a comment below: "I'm not entering the rafflecopter, but please throw me in the hat" so I can manually put you in there for a chance.**
For more chances to win a paperback, Melanie is giving away ten on her website here. And there is a Goodreads giveaway from 9/4 – 10/4.