The conclusion to Lori's duology is here. Aren't these floral covers pretty. I'm sure everyone who's read the first book are eager to see a happily ever after…will these two find it–together? IF you haven't read the first one, you're in luck, this giveaway if for two lucky people to win BOTH books!
Welcome to the Index, Lori!
Massachusetts, New York, South Carolina , Boston , Adirondack Mountains, Farm, Frontier America, Plantations , 1790s , 1775-1800 (US Revolution) , Carpenter, Farming , Abolitionist, Biracial, Freed Slave, Pioneer, Tarnished Reputation, Unwed Mother , Family Saga, Old Flame, Socially Unequal Romance , Homesteading, Slavery , Benton-Lori

A year has passed since Ian Cameron reluctantly sent his uncle's former slave Seona and their son, Gabriel, north to his kin in Boston. Determined to fully release them, Ian strives to make a life at Mountain Laurel, his inherited plantation, along with Judith, the wife he's vowed to love and cherish. But when tragedy leaves him alone with his daughter, Mandy, and his three remaining slaves, he decides to return north. An act of kindness on the journey provides Ian the chance to obtain land near the frontier settlement of Shiloh, New York. Perhaps even the hope for a new life with those he still holds dear.

In Boston, Seona has taken her first tentative steps as a free woman, while trying to banish Ian from her heart. The Cameron family thinks she and Gabriel should remain under their protection. Seona's mother, Lily, thinks it's time they strike out on their own. Then Ian arrives, offering a second chance Seona hadn't dared imagine. But the wide-open frontier of Shiloh feels as boundless and terrifying as her newfound freedom—a place of new friends and new enemies, where deep bonds are renewed but old hurts stand ready to rear their heads. It will take every ounce of faith and courage Ian and Seona can muster to fight for their family and their future . . . together.
Other Books in this Series: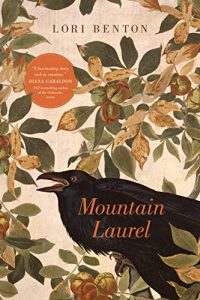 *******************************************************************************************************
Questions about Lori's Story
What was the hardest part of your book to write? What did you enjoy most about writing the book?

The hardest aspect of writing Shiloh was also the one I most enjoyed—moving main characters Ian Cameron and Seona, along with several others from the first Kindred book, Mountain Laurel, from North Carolina to the village of Shiloh, the setting of my debut novel, Burning Sky, on the New York frontier. By doing so I was able to revisit the characters from that earlier novel twelve years beyond the point where it ended, as well as continuing Ian and Seona's story begun in Mountain Laurel. Weaving those two story-worlds together was painstaking work, requiring many drafts of huge chunks of the book. While Shiloh is primarily a sequel to Mountain Laurel, I wanted to do more than give a few characters from Burning Sky a cameo appearance. I wanted them to be integral to the storyline without overshadowing Ian and Seona's continuing journey. Being as close to both sets of characters as I naturally am as their creator, I'm thankful for my editing team at Tyndale for helping me find the right balance and a satisfying conclusion to multiple story threads. I couldn't be more pleased or proud of how we pulled this off.
Did you include a real historical character or incident in your story?
I did, and he's a gem of a character, too. Since it was partly Last of the Mohicans (the book and latest movie version) that ignited my interest in the New York frontier years ago, I was thrilled to discover that author James Fenimore Cooper had a father who was instrumental in settling vast tracts of the New York frontier during the 1790s, the time of Shiloh's setting. William Cooper rose from a humble wheelwright to become a successful merchant, land speculator, and a politician. He founded Cooperstown in the 1780s and spent the next decades working to entice men to take up farms across the surrounding countryside and elsewhere in New York, including some tracts north of the Mohawk River. Because of a wonderful book called William Cooper's Town by Alan Taylor it was possible to place the elder Cooper in the path of Ian Cameron when he was on the move north, in search of a new place to settle. And of course I couldn't resist giving his inspiring author son, James, a cameo in the story, even though he was only a little boy at the time
*******************************************************************************************************
Questions about Lori's Reading
What was the last Christian Historical Novel you read, and what was your favorite thing about it?

Count the Nights by Stars by Michelle Shocklee, which doesn't release until March 2022. I was able to read an early copy for endorsement and suggest readers pre-order this split-time novel set in Nashville, Tennessee during the 1960s and 1890s. I predict you'll find it so suspenseful you won't be able to put it down.

What Christian Historical Novel did you last personally recommend to someone and why did you recommend that one to them?

I'm always recommending Laura Frantz's historical novels to readers of my books looking for something similar. We're both drawn to those 18th century frontier settings and Laura's books are always so well written. An Uncommon Woman is one of my favorites.
Lori is giving away TWO SETS of this series in paperback, US entrants only. Enter the Rafflecopter below!
**If you don't want to enter the Rafflecopter, tell me in a comment below: "I'm not entering the Rafflecopter, but please throw me in the hat" so I can manually put you in there for a chance.**