The Hope of Shridula: Blessings in India Book #2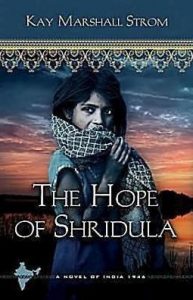 1946 – India
The Blessing in India series is a saga set in India's heartbreaking history and breathtaking present that points toward a future of hope.  Along the way, name-only Christianity collides with Hinduism, and then is confronted by an entirely new understanding of the call to follow Christ.
India: 1946. For forty-eight years, Ashish and his family toiled as slaves in the fields of the high-caste Lal family, and all because of one small debt. At fifty-four, Ashish was old and worn out. Every day was a struggle to survive for his family including his only daughter.  
His wife had named the girl Shridula—Blessings. "Perhaps the name will bring you more fortune than it brought me," Ashish told his daughter. His words proved to be prophetic in ways he could never have imagined. And when the flames of revolt brought independence to India, they seared change into the family of Ashish.