Becoming Lucy: Winds Across the Prairie Book 1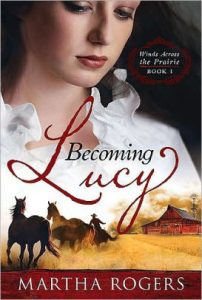 1896 – Oklahoma
After her parents' deaths, seventeen-year-old heiress Lucinda Bishop flees to Barton Creek, Oklahoma in 1896 as the ward of Amelia and Ben Haynes, her mother's sister and brother-in-law. She finds life on a working ranch to be nothing like she had imagined, especially when she encounters Jake Starnes, a drifter now employed by her uncle who holds a dark secret from is past. With Jake, she faces emotions she's never before experienced. But can he get his life together before someone else claims her hand or her life?
Although a historical, the story involves conflicts and situations not uncommon in modern days. Lucinda Bishop learns to cope with the death of her parents, start a new life in unfamiliar surroundings, and learn about love and forgiveness. When the young hero becomes a Christian, he realizes he must face his past and whatever consequences may result, even if it means he will lose the one girl he loves.
Set in Oklahoma Territory before the days of statehood, the story is one of how love and forgiveness can overcome even the most difficult obstacles when God is in control. When one's heart is attuned to God's leading, the greatest of sins can be forgiven and a new life begun.