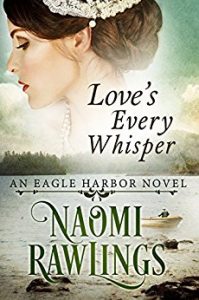 Love's Every Whisper
1883 – Michigan
Victoria Donnelly is, as always, a failure. With five years of failed courtships behind her and the calendar inching closer to another birthday, Victoria's determined to redeem herself and snag a proposal from a wealthy childhood acquaintance, Gilbert Sinclair. But returning to Eagle Harbor stirs up long forgotten memories. And worse, old affection for her betrothed's enemy.
Elijah Cummings has loved Victoria for fifteen years. But fishermen's sons don't marry shipping barons' daughters. He knows it. She knows it. The entire town knows it. Resolved to keep his distance from Victoria, Elijah focuses on establishing a much needed life-saving station, risking his own life by rescuing sailors stuck aboard shipwrecks.
He knows how to save drowning sailors, but how is he to save a woman from the biggest mistake of her life—without destroying both their hearts in the process?