Winter Promise (Seasons of the Heart)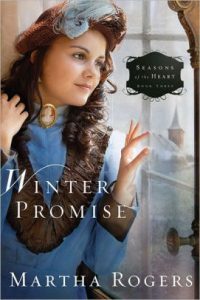 1890 – Texas
A painful past has left Doctor Elliot Jensen uninterested in love.
Until he meets Abigail.
Single, educated, and looking for a new start, Abigail Monroe decides to join her brother and his wife in Portersville, Texas. Near her twenty-fifth birthday and without a suitor, she fears she will become a spinster if she stays in Briar Ridge, Connecticut.
A sprained ankle sends Abigail to the new doctor in town, Elliot Jensen. He is smitten, but tragedy in his past has left him bitter, guilt ridden, and afraid to fall in love again.
When the town's deputy sheriff rescues Abigail after a robbery, Elliot's feelings for her get stronger. He is jealous of the attention Abigail is getting, but he fears he can't compete with the handsome deputy sheriff and his heroic deeds.
Has he waited too long to share his feelings for her? Or will Christmas bring them both the gift they seek?