Are you looking for something other than romance? Perhaps an ensemble cast book about friendships? Then try Cathy's latest. Welcome to the Index, Cathy!
Canada , Connecticut , Foreign Setting (Not USA or England), Military Bases or Schools , 1900s, 1930s , 1900-1930 (US Early American), 1929-1939 (US Great Depression) , Dual/Split Time, Ensemble Cast , Gohlke-Cathy 
After two young women's deep bond is torn apart, what will it take to bring them together again? In Ladies of the Lake, the beloved author of Saving Amelie and Night Bird Calling returns with a transformative new historical novel about the wonder and complexities of friendship, love, and belonging.
When she is forced to leave her beloved Prince Edward Island to attend Lakeside Ladies Academy after the death of her parents, the last thing Adelaide Rose MacNeill expects to find is three kindred spirits. The "Ladies of the Lake," as the four girls call themselves, quickly bond like sisters, vowing that wherever life takes them, they will always be there for each other. But that is before: Before love and jealousy come between Adelaide and Dorothy, the closest of the friends. Before the dawn of World War I upends their world and casts baseless suspicion onto the German American man they both love. Before a terrible explosion in Halifax Harbor rips the sisterhood irrevocably apart.
Seventeen years later, Rosaline Murray receives an unsuspecting telephone call from Dorothy, now headmistress of Lakeside, inviting her to attend the graduation of a new generation of girls, including Rosaline's beloved daughter. With that call, Rosaline is drawn into a past she'd determined to put behind her. To memories of a man she once loved . . . of a sisterhood she abandoned . . . and of the day she stopped being Adelaide MacNeill.
*******************************************************************************************************
Questions about Cathy's Story
What inspired this story?
When I first read of the Halifax Explosion (December 6, 1917), I was astonished that I'd never heard of it, considering that before the atomic bomb was dropped on Hiroshima in WWII, this was the biggest man-made explosion that had ever occurred.
Reading of the devastation, of lives lost and those forever changed by burns, crippling, and blindness in the Halifax Explosion, I was reminded of all my mother endured as a small child after being badly burned, how she overcame that tragedy, and yet how those injuries affected her throughout her lifetime.
It was fascinating to me that with so many disappearing in the explosion some took the opportunity to reinvent themselves and change their identity. I asked, why would a person do that? What would make a person choose to leave everything and everyone behind and forge a new life?
Also, the growing disregard for others and increased bullying that I witness through social media and in our society greatly concerns me. I wanted to show through story that such things—to which we may turn a blind eye—can go beyond rudeness and can have serious and lasting consequences that we may never intend or imagine.
I was inspired by Joseph's handling of those who wronged him in the Bible, how he reacted when faced with the opportunity to retaliate or to forgive and embrace, and I wanted to see how that could play out through fictional characters.
Lastly, I've always been fascinated by the idea of young people growing up in boarding schools, so I looked for a girls' boarding school in New England, knowing that I wanted to set the main part of the story in the US. That's when I discovered Miss Porter's School and its long and interesting history. I could well imagine four girls growing up as close friends in such a setting and together facing numerous challenges—many like challenges we face today.
Is there anything in this book that is inspired by/modeled after something in your own life or someone you know in real life?
I am blessed with a precious natural sister who was my very first friend and lifelong confidante, and dear longtime women friends, each a true sister of my heart. Those relationships have taught me the importance of sharing faith, truth from our hearts, trust, integrity, of championing one another's successes, of comforting through trials and sorrow, and of refusing to allow jealousy, envy, or competition to worm their way between us.
Close relationships can be challenged when years, courses and stages of life, or miles come between us. Love is not fragile, but it does require nurturing. Staying connected through letters or emails, cards, phone calls, and visits requires diligence and commitment. The value, the joy, and the strengthening of those relationships is worth every investment for ourselves, for those who observe our relationships, and for the generations that will follow.
So while the experiences of the women in Ladies of the Lake are far from my own, the love and support they ultimately offer one another are things that my sister and friends and I have grown into through the years.
What character in your book turned out to be your favorite?
Addie is my favorite character. I understood her shyness, her desire to fit in with other girls, her feelings of shame and vulnerability as a young person and her eagerness to grow into her desired gifts of teaching and writing. I understood her desire for friendship, her sacrificial loyalty to those she embraces as family, as well as her desire to disappear when the thought of returning to the world she'd known became conflicted and difficult, and when duty called her in a new direction.
I appreciated Addie's/Rosaline's sacrifice, her determination to raise her niece as her daughter, and her great love and desire to protect her. I was inspired by Addie's courage in overcoming her fear to return to the school years later for her daughter's sake, even though she knows it will cost her everything to confess her secrets, to remember and confront all those she's left behind, especially the man she's always loved. I loved writing Addie's character arc, witnessing her growth into the woman she was meant to become.
*******************************************************************************************************
Questions about Cathy's Reading
What was the last Christian Historical Novel you read, and what was your favorite thing about it?
I just finished reading Carrie Turansky's new novel, The Legacy of Longdale Manor. I loved how Carrie explored the building of godly relationships while needing to maintain faith through very serious trials and disappointments, and how she revealed the restorative fatherhood of God. Set amid the dramatic beauty of England's Lake District—one of my favorite places on the planet—The Legacy of Longdale Manor is a romantic and deeply satisfying love story revealing our heavenly Father's shepherding grace.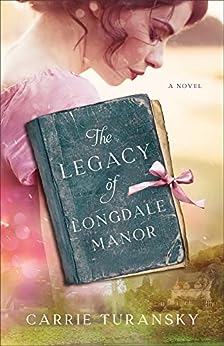 What was the last Christian Historical Novel that surprised you with a plot twist you didn't see coming?
Mystery at every turn threads The Wings of Poppy Pendleton, Melanie Dobson's captivating family saga set amid the Thousand Islands in the St. Lawrence River. Absolutely fascinating and beautifully written—I could not put this book down. Through plot twists and the gradual unfolding of deeply buried secrets dawns the realization that our plans are not always best, but that truth, seeking forgiveness and moving forward in faith in the sure light of God's love is the path to peace and greatest joy.
What was the last Christian Historical Novel that made you cry?
Amanda Barratt's Within These Walls of Sorrow is a brilliant novel—a story so steeped in historical detail and ringing with such a voice of truth that you can hardly believe it's fiction. Within These Walls of Sorrow recounts in stark reality the lives and losses of men, women, and even children cast into a raging sea of inhumanity, incomprehensible for its calculated brutality. Unflinching, brave, stark, never sentimental but penned with the deepest emotion, the novel recounts the story of persecuted and condemned Jews and of the Gentile pharmacists of Apteka Pod Orlem, the only pharmacy determined to remain open within the walls of Krakow, Poland's ghetto during WWII. The pharmacists and their network of collaborators daily risked their lives to help Jews within the city of Krakow—inside its ghetto and out. Convicting and inspiring are the two words that best capture this story for me.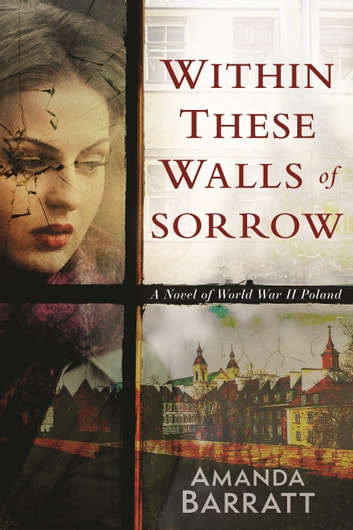 Cathy is giving away either a paperback (USA Only) or an ebook (Internationals Entry welcome). Enter the Rafflecopter below!
**If you don't want to enter the Rafflecopter, tell me in a comment below: "I'm not entering the Rafflecopter, but please throw me in the hat" so I can manually put you in there for a chance.**