Friendships, World War II, and Opera–What a combination! Welcome Renee Ryan to the Index with her newest release!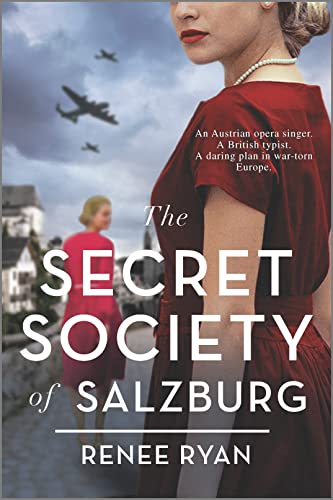 Austria, England , London , Foreign Setting (Not USA or England), Theater , 1930s , 1939-1945 (US WWII) , World War II , Artists, Secretary, Singer , Jewish Characters , Friendship Stories , Ryan-Renee
The Secret Society of Salzburg
At first glance, Austrian opera singer Elsa Mayer-Braun has little in common with the young English typist she encounters on tour. Yet she and Hattie Featherstone forge an instant connection—and strike a dangerous alliance. Using their friendship as a cover, they form a secret society with a daring goal: to rescue as many Jews as possible from Nazi persecution.
 
Though the war's outbreak threatens Elsa and Hattie's network, their efforts attract the covert attention of the British government, offering more opportunities to thwart the Germans. But Elsa's growing fame as Hitler's favorite opera singer, coupled with her secret Jewish ancestry, make her both a weapon and a target—until her future, too, hangs in the balance.
*******************************************************************************************************
Questions about Renee's Story
Did you include a real historical character or incident in your story?
In my research about British Immigration Policy during the interwar years, I stumbled upon the daring Cook sisters, Ida and Louise. These brave women orchestrated the rescue of 29 Jews from Nazi Germany in the 1930s. What drew me to their story was my indirect connection to the younger sister. Between 1936 and 1985, Ida wrote 112 romance novels as Mary Burchell for Mills and Boon, many of which were later reissued by my publisher Harlequin. Like the fictional Hattie and Vera, the Cook sisters were civil servants with a strong passion for opera. In fact, they first learned of the persecution of Jews through their association with Austrian conduction, Clemens Krauss, and his wife, Viorica Ursuleac. If you're interested in finding out more about Ida and Louise Cook, I highly recommend Ida's autobiography, We Followed Our Stars, which was reedited and expanded in 2008 as Safe Passage.
What research did you have to look up to make your character(s) authentic?
I wasn't much of an opera fan before I wrote this book, which was a challenge since one of my two main heroines is an international opera star and the catalyst for the heroine's first meeting. After spending hours watching video clips and learning about vocal control, I am a true devotee. I highly recommend any version of The Queen of the Night's aria from the second act of Mozart's The Magic Flute.
My personal favorite rendition is by Diana Damrau from her performance with The Royal Opera. The Flower Duet from Lakmé by Delibes is another recently discovered gem. Check out Elīna Garanča & Olga Peretyatko's performance.
Did you stumble upon anything in your research for this book that you thought was strange or surprising?
A particularly twisty path down a rabbit hole landed me at the gates of the Bergen-Belsen Concentration Camp. Located in northern Germany in the town of Bergen, the facility began its life as a prisoner of war camp during the second world war. The official opening date is somewhat in question. However, in 1943, a portion of the facility became an "exchange camp" where valuable Jewish inmates were held with the intention of exchanging them for German prisoners of war. Estimates claim that some 2500 Jews were released or exchanged between the summer of 1943 and December 1944, though it may have been more. By March of 1944, a portion of the facility was designated as a "recovery camp" and inmates too sick to work were brought there from other camps. With them came innumerable diseases. In November of that same year a section was dedicated solely to women and, sometime in the spring of 1945, both Margot and Anne Frank died at Bergen-Belson.
*******************************************************************************************************
Questions about Renee's Reading
What Christian Historical Novel taught you something about the craft of writing because it was so well done? Tell us a bit about what it taught you.
Patti Callahan's Once Upon a Wardrobe was a revelation on so many levels. Her voice soared off the page. I can pick up a Patty Callahan book, flip to any page and know she's the author. What a master of word choice and staying true to your own style. She made me smile, sigh, and sob like a baby. My biggest takeaway as a writer was to remember when crafting my main characters that each one must have a unique way of thinking and original way of conveying those thoughts. I shouldn't need a chapter header for the reader to know which character's story arc I'm following.
What Christian Historical Novel did you reread last, and why did you reread it?
I recently reread Francine Rivers' Redeeming Love because of the recent movie. I last read the book over ten years ago. The story still holds up. The brokenness was at times painful to read, but also inspiring. I also reread the book of Hosea and was blown away with the truth that God never lets us go. Or, as I like to say, God is always faithful, even when we are not.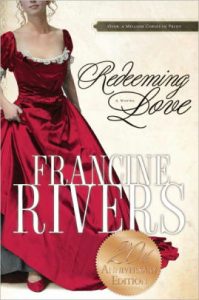 If your job was to sell one author's historical fiction (besides your own) which author's wares would you want to peddle? And which is your favorite by that author?
I always recommend Patti Callahan's books. Once Upon a Wardrobe is my favorite, with Becoming Mrs. Lewis a close second. I'm a huge CS Lewis fan and she really brought him alive for me in both books. I would love to sit down and chat with him. Reading Patti's books was the closest I'll ever get and that's okay with me. He came off quite likeable and very multi-dimensional.
Renee is giving away either a paperback (USA Only) or an ebook (Internationals Entry welcome). Enter the Rafflecopter below!
**If you don't want to enter the Rafflecopter, tell me in a comment below: "I'm not entering the Rafflecopter, but please throw me in the hat" so I can manually put you in there for a chance.**