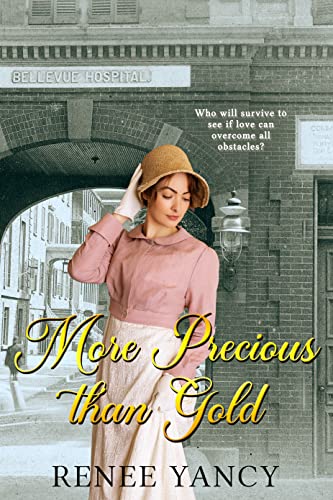 Goodreads ~ Apple ~ B&N ~ Kobo ~ Amazon
1917 – New York
When artistic, middle-class Kitty Winthrop discovers the grandmother she always believed dead is actually the uber-wealthy leader of New York City high society, Kitty jumps at the chance to make her debut into that world despite her mother's disapproval. After dancing lessons and etiquette classes, she enters the high society life as the granddaughter of a New York City blueblood, wearing the gorgeous Worth ball gowns she used to design for her portfolio. But she soon discovers all that glitters isn't gold, and ball gowns, jewels, and fancy parties don't feed the soul.
As America enters World War I, Kitty makes the choice to forego the life of wealth and luxury promised by her grandmother and pursue a nursing career at Bellevue Hospital. She catches the eye of Dr. Samuel Hayden, a young physician in charge of the medical wards who falls hard for her.
As Kitty and Samuel fall in love, the Pandemic Flu of 1918 strikes New York City and the world. Soon the student nurses are working sixteen-hour shifts, people in the prime of life are dying, and the city morgues are overflowing with the dead. Through this incredibly stressful time, Kitty realizes she want to pursue medicine, but Samuel won't hear of it. As the flu epidemic reaches its lethal peak, hearts are tested, lives are lost, and no one knows who will survive to see if love can overcome all obstacles.