Maggie's Journey (McKenna's Daughters)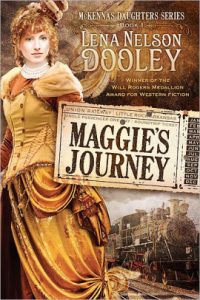 1885 – Oregon and Arkansas
A girl who's been lied to her whole life…
Near her eighteenth birthday, Margaret Lenora Caine finds a chest hidden in the attic containing proof that she was adopted. The daughter of wealthy merchants in Seattle, she feels betrayed both by her real parents and by the ones who raised her.
Maggie desires a place where she belongs. But her mother's constant criticism and reminders that she doesn't fit the mold of a young woman of their social standing have already created tension in their home. With the discovery of the family secret, all sense of her identity is lost.
When Maggie asks to visit her grandmother in Arkansas, her father agrees on the condition that she take her Aunt Georgia as a chaperone and his young partner, Charles Stanton, as protection on the journey. Will she discover who she really is and, more importantly, what truly matters most in life?